Beekeepers eagerly await the arrival of March, when rising temperatures breathe new life into the first harbingers of spring. As spring plants start to grow, bee colonies also buzz into life and make good use of the food sources provided by flowers, decorative shrubs and fruit trees. Bees' development depends on the flowering and nectar flow of these plants, so they tirelessly pay them countless visits.
What do users of plant protection products need to be aware of?
When using protection products we have to pay special attention to bees and other beneficial insects, which are directly exposed to these products while collecting nectar and pollen. Legislation therefore requires plant protection products that are harmful to bees and other pollinators to be marked with a label and a special graphic symbol.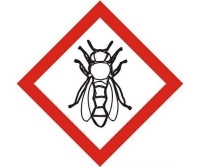 When using plant protection products, the user must respect the following instructions:
The systematic use of products that are harmful to bees is prohibited during the flowering stage of cultivated plants.
During spraying, the blooming undergrowth in permanent crops must be scythed, mulched or protected so it does not come into contact with the product.
The use of contact products that are harmful to bees during the cultivation of plants is allowed only at night (from two hours after sunset to two hours before sunrise), unless the label and instructions for use state that the use of this product is completely prohibited during blooming.
The use of products that are least harmful to bees is recommended, and the user should spray them in windless weather conditions, either early in the morning or late in the evening when bees retire to their hives.
In addition to following the above instructions on spraying plants during blooming, it is extremely important to prepare the spray mixture in a special dedicated place where possible spills cannot leak into water sources or drainage ditches.
Disposal of the packaging waste of these products and the cleaning of spraying equipment also require special care. The fluids resulting from cleaning must not in any way leak into the environment, especially during periods of low precipitation and when water sources are scarce. Bees may choose this polluted water as their water source and thus suffer poisoning.
Individuals can gain access to plant protection products by demonstrating knowledge of their proper handling beforehand. Such measures ensure that the use of such products does not pose an unacceptable level of risk for the environment and people's health, which are the fundamental rights of all citizens.