On 20 December 2017, The UN General Assembly unanimously proclaimed 20 May as World Bee Day. This confirms Slovenia's long-standing commitment to adequately protect bees and their inclusion on the list of endangered animal species. Before the first celebration of Word Bee Day, we interviewed Peter Kozmus, PhD, professional head of the breeding programme for the Carniolan honey bee at the Slovenian Beekeepers' Association, President of the Council for Beekeeping at the Ministry of Agriculture, Forestry and Food, and Vice-President of the Apimondia International Federation of Beekeepers' Associations.
You have dedicated your life to bees and honey. Tell us, why should we protect bees?
Bees not only provide us important, quality products, such as honey, pollen, propolis, wax and bee venom, but also perform the extremely important service of pollination. In the past, the role of pollination in producing and providing food was less understood and largely underestimated, partly because nature itself always took care of pollination and people didn't have to worry about it nor foot any bills for it.
The spread of agricultural areas, the increasingly intensive use of chemicals harmful to beneficial insects, globalisation and climate change all caused bee numbers to decline around the world, thus creating a need for systematic pollination schemes.
Bees and other pollinators help provide one-third of the world's food, contribute substantially to food security and dietetic diversity and provide an important source of quality essential nutrients. Pollination is worth between US$ 235 billion and US$ 577 billion.
An important factor in this equation is the environment that bees need in order to develop: clean air, water and diverse vegetation. This same environment, which is becoming increasingly rare, is also well suited to human life. The majority of actions aimed at creating better conditions for bees also contribute to improving our human environment.
What can Slovenian apiculture point to as a source of pride itself?
As regards organisation, transfer of knowledge to younger generations, people's awareness of bees and cooperation with governmental and non-governmental organisations, Slovenian beekeepers rank among the best in the world. We are also proud of our tradition, and of our apiaries, particularity of our AZ beehives and the native Carniolan honey bee, Apis mellifera carnica, which is highly valued for its docile nature. Owing to all of the above, Slovenia is becoming increasingly popular as a tourist destination that offers a good mix of apiculture and travel. Alongside visiting the main tourist attractions, visitors more and more often want to meet Slovenian beekeepers.
Apiculture in Slovenia

10 000: Number of beekeepers in the country

16: Average number of beehives per beekeeper

80%: share of honey that beekeepers sell directly to households

1.4 kg: annual honey consumption per capita
Of course, Slovenian beekeeping also faces challenges. Climate change and intensive farming are among the chief reasons why the number of bee colonies is falling, especially during winter, which greatly impacts the economics of apiculture. Keeping bees healthy requires vast knowledge and experience on the part of beekeepers, and further steps should be taken also in this regard.
What are the opportunities for the further development of Slovenian apiculture?
Slovenian beekeeping can take advantage of many opportunities in various areas. Our knowledge of apiculture is rooted in tradition, organization and specific beekeeping technology. We can transfer this in the form of education to foreigners who wish to upgrade or expand their knowledge of apiculture. Our queen bee breeders also have many options.
Besides, we live in an area that is home to the Carniolan bee, the second most widespread bee subspecies in the world. Beekeeping tourism is also on the rise. In the future, we should take even more advantage of these opportunities. I am convinced that World Bee Day will blow fresh wind into the sails of beekeepers.
Carniolan bee

In Slovenia, apiculturists are only allowed to breed the Carniolan bee, which is distinguished by its distinctive, grey-coloured stripes and hence affectionately nicknamed "sivka", the "grizzly" or the Carniolan gray bee. The Slovenian bee is therefore grey, not yellow.
More than a year ago you became President of the Council for Beekeeping. What is the role of the Council?
The Council for Beekeeping is the advisory body to the Minister of Agriculture, Forestry and Food. It is responsible for issues related to the field of apiculture that require wider discussion and important decision-making. The Council publicly takes part in developing programmes and measures related to beekeeping and amending legislation, as well as in addressing and tackling current challenges in beekeeping.
You are also the Vice-President of the Apimondia International Federation of Beekeepers' Associations. What is the role of this organisation and what are you working to achieve within its framework?
Apimondia was founded in 1893 and brings together 118 beekeeping organisations from all over the world. It organises many events around the globe on various topics related to apiculture (bee biology, health, economics and technology, quality of bee products, beekeeping in developing countries, pollination and apitherapy). The biggest event is the Apimondia Congress that takes place every two years.
The main task of the organisation is to bring together experts in the field of apiculture, transfer knowledge, and tackle current issues in beekeeping in different parts of the world. Within the framework of Apimondia I work to raise public awareness about the importance of bees, to strengthen the transfer of knowledge from experts to beekeepers, and to improve conditions for the survival of bees and beekeepers.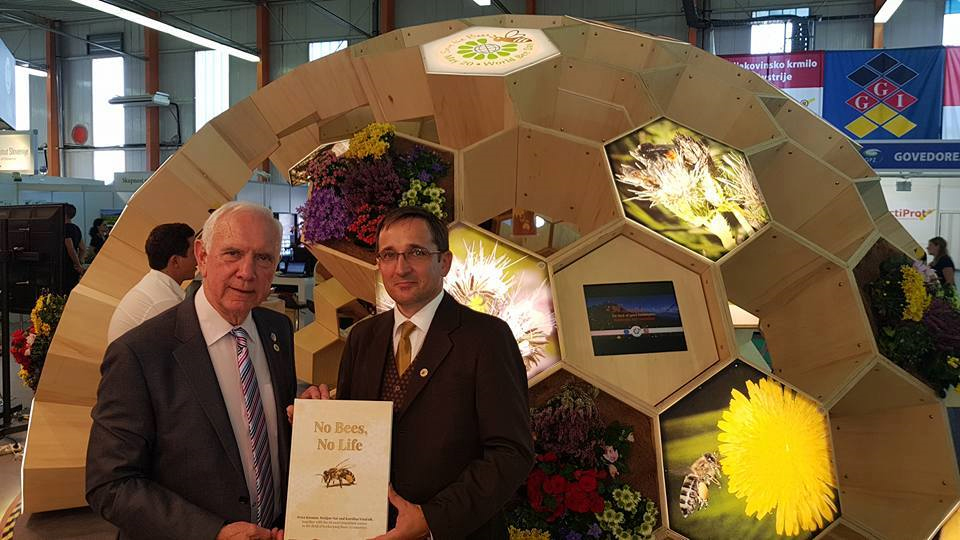 The President of Apimondia Philip McCabe and Peter Kozmus at the first presentation of the book No Bees, No Life (Gornja Radgona, 27 August 2017)
On 20 December 2017, the United Nations endorsed Slovenia's initiative to declare 20 May World Bee Day. What does this mean for Slovenia and you personally as a conscientious beekeeper?
I am immensely happy that, after three years and great efforts, the proclamation was finally realised. Initially I was not aware that the journey would be so long, so our success makes me even happier.
For Slovenia, the proclamation represents a remarkable instance of recognition and serves to enhance our international reputation. Slovenia has undoubtedly strengthened its reputation as a country that is aware of the importance of bees and that works toward their importance being recognised by the wider international community. This is the only way to improve conditions for the future survival of bees on our planet – we can help them endure and successfully meet and conquer all of the many challenges they face. And as a beekeeper, I am even more proud that I work with bees and thus work at a task that is important to the wider community.
And in conclusion, tell us, how often do you eat honey? And how do you prefer to enjoy it?
In our family we usually simply eat honey spread over bread, even more so on the weekends when there is enough time to really enjoy breakfast. We also use it as a sweetener in tea, and my wife and mother-in-law often use it to bake cakes. We consume rather large amounts of honey, but that is not a problem because we produce enough of it with our beekeeping.
Peter Kozmus inspecting his bees
Photos: personal archive of dr. Peter Kozmus